Hello! As I promised no book review this time!! I recently brought some new books and I wanted to share them on here because why not? I thought I could tell you why I am excited to read them and maybe you dear reader will find something new to read aswell! So let us jump right in.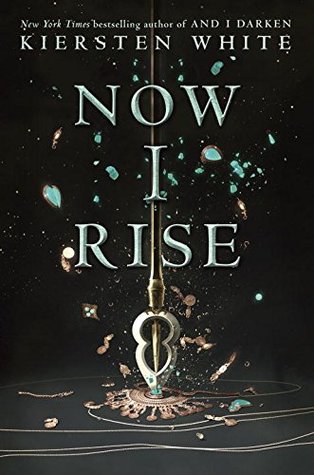 ——-This is the second book to the Conqueror's Saga, The first book is And I Darken. I own both and have not read them yet. Ehehe whoops. I do plan on reading the series super soon though now that two books are out. I want to read this mostly because of the female Dracula/ Vlad the Impaler character for VERY obvious reasons. No I am totally not obsessed with Dracula. Not at all. I can't give you much of a synopsis but I highly recommend checking out the And I Darken goodreads page.
Synopsis to And I Darken:
No one expects a princess to be brutal. And Lada Dragwlya likes it that way. Ever since she and her gentle younger brother, Radu, were wrenched from their homeland of Wallachia and abandoned by their father to be raised in the Ottoman courts, Lada has known that being ruthless is the key to survival. She and Radu are doomed to act as pawns in a vicious game, an unseen sword hovering over their every move. For the lineage that makes them special also makes them targets.
Lada despises the Ottomans and bides her time, planning her vengeance for the day when she can return to Wallachia and claim her birthright. Radu longs only for a place where he feels safe. And when they meet Mehmed, the defiant and lonely son of the sultan, Radu feels that he's made a true friend—and Lada wonders if she's finally found someone worthy of her passion.
But Mehmed is heir to the very empire that Lada has sworn to fight against—and that Radu now considers home. Together, Lada, Radu, and Mehmed form a toxic triangle that strains the bonds of love and loyalty to the breaking point.
——–Let me start by saying I love LOVE this cover so much. Look at how pretty that looks. It is also my favorite color ♥. I found this book while I was on instagram. Someone got an arc and said something about Queen Victoria. That is all I needed to know so when I saw this at the book store I pounced. (I might have squealed with excitement but you have no proof). Since I am so wonderful at reading the synopsis of books (I usually don't) I will tell you what I do know. This is a sci-fi/historical fiction book which if that doesn't sound AWESOME I have no clue what does. I believe our main character is somehow related to Queen Victoria. Like I said that is all I wanted to know because I like to go into my books mildly blind.
Synopsis:
Set in a near-future world where the British Empire was preserved, not by the cost of blood and theft but by effort of repatriation and promises kept, That Inevitable Victorian Thing is a novel of love, duty, and the small moments that can change people and the world.
Victoria-Margaret is the crown princess of the empire, a direct descendant of Victoria I, the queen who changed the course of history two centuries earlier. The imperial practice of genetically arranged matchmaking will soon guide Margaret into a politically advantageous marriage like her mother before her, but before she does her duty, she'll have one summer incognito in a far corner of empire. In Toronto, she meets Helena Marcus, daughter of one of the empire's greatest placement geneticists, and August Callaghan, the heir apparent to a powerful shipping firm currently besieged by American pirates. In a summer of high-society debutante balls, politically charged tea parties, and romantic country dances, Margaret, Helena, and August discover they share an unusual bond and maybe a one in a million chance to have what they want and to change the world in the process —just like the first Queen Victoria.
——–The only reason I looked at this book in the first place was because of the beautiful cover. I had to look at the synopsis that is on the cover flap because I really didn't know what this book was about at all. This is a fantasy book that also has a romance that follows our main character named Sage Fowler who does not want to get married and is apprentice to a matchmaker. It also says it follows and I quote "a solider desperate to prove himself".  This is the first book in a trilogy so there is more to this story. I am hoping this isn't full of clichés but we have to read it to find out. I am super bad with explaining what books are about
Synopsis:
An obstinate girl who will not be married. A soldier desperate to prove himself. A kingdom on the brink of war.
With a sharp tongue and an unruly temper, Sage Fowler is not what they'd call a lady―which is perfectly fine with her. Deemed unfit for marriage, Sage is apprenticed to a matchmaker and tasked with wrangling other young ladies to be married off for political alliances. She spies on the girls―and on the soldiers escorting them.
As the girls' military escort senses a political uprising, Sage is recruited by a handsome soldier to infiltrate the enemy ranks. The more she discovers as a spy, the less certain she becomes about whom to trust―and Sage becomes caught in a dangerous balancing act that will determine the fate of her kingdom.
——Found this through GoodReads and let me just tell you why this book is awesome. THIS BOOK TAKES PLACE IN THE SOUTH BRONX AND HAS A LATINA MAIN CHARCATER. You do not understand how much just the thought of this book being written makes me smile. I knew I had to get it when I saw where it took place. There is so little representation of the different sections of NYC. I have never seen a book based in the Bronx before. Not to mention a Latina!
Synopsis:
After "borrowing" her father's credit card to finance a more stylish wardrobe, Margot
Sánchez suddenly finds herself grounded. And by grounded, she means working as an indentured servant in her family's struggling grocery store to pay off her debts.
With each order of deli meat she slices, Margot can feel her carefully cultivated prep school reputation slipping through her fingers, and she's willing to do anything to get out of this punishment. Lie, cheat, and maybe even steal…
Margot's invitation to the ultimate beach party is within reach and she has no intention of letting her family's drama or Moisés—the admittedly good-looking but outspoken boy from the neighborhood—keep her from her goal.
——I actually own a copy of this book but I have the hardcover that does not have this awesome Simon and Baz art on the cover. So obviously I had to splurge and get this for my collection because Simon and Baz are my favorite boys. My ship is canon. It is all a fangirl has ever asked for.
Synopsis:
Simon Snow just wants to relax and savor his last year at the Watford School of Magicks, but no one will let him. His girlfriend broke up with him, his best friend is a pest, and his mentor keeps trying to hide him away in the mountains where maybe he'll be safe. Simon can't even enjoy the fact that his roommate and longtime nemesis is missing, because he can't stop worrying about the evil git. Plus there are ghosts. And vampires. And actual evil things trying to shut Simon down. When you're the most powerful magician the world has ever known, you never get to relax and savor anything. Carry On is a ghost story, a love story, a mystery and a melodrama. It has just as much kissing and talking as you'd expect from a Rainbow Rowell story–but far, far more monsters.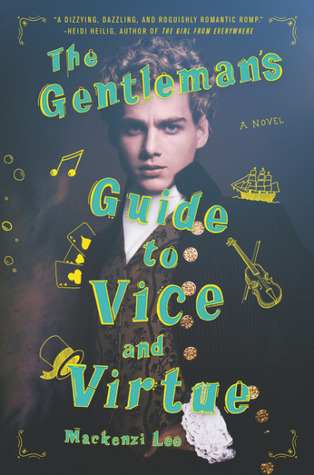 ——–I have been dying to get my hands on this. I have heard so many good things about this book that I had to get it. I hadn't seen it in stores before so of course I get super excited and have to take it home. This is the only sensible action I could have taken. Just pray for my wallet.
Synopsis:
Henry "Monty" Montague was born and bred to be a gentleman, but he was never one to be tamed. The finest boarding schools in England and the constant disapproval of his father haven't been able to curb any of his roguish passions—not for gambling halls, late nights spent with a bottle of spirits, or waking up in the arms of women or men.
But as Monty embarks on his Grand Tour of Europe, his quest for a life filled with pleasure and vice is in danger of coming to an end. Not only does his father expect him to take over the family's estate upon his return, but Monty is also nursing an impossible crush on his best friend and traveling companion, Percy.
Still it isn't in Monty's nature to give up. Even with his younger sister, Felicity, in tow, he vows to make this yearlong escapade one last hedonistic hurrah and flirt with Percy from Paris to Rome. But when one of Monty's reckless decisions turns their trip abroad into a harrowing manhunt that spans across Europe, it calls into question everything he knows, including his relationship with the boy he adores.
——My first nonfiction book! Hurrah!! Okay but I am so excited to read this! I watch Caitlin on YouTube and love the movement she works for. I agree that we should be more involved with the death's of our loved ones. I really don't think death should be such a taboo topic. Lets talk about death guys it is important after all. We all gotta kick the bucket at some point. Sorry I got morbid. I really want to read about her travels and how other cultures deal with death.
Synopsis:
Fascinated by our pervasive terror of dead bodies, mortician Caitlin Doughty set out to discover how other cultures care for their dead. In rural Indonesia, she observes a man clean and dress his grandfather's mummified body. Grandpa's mummy has lived in the family home for two years, where the family has maintained a warm and respectful relationship. She meets Bolivian natitas (cigarette- smoking, wish- granting human skulls), and introduces us to a Japanese kotsuage, in which relatives use chopsticks to pluck their loved- ones' bones from cremation ashes. With curiosity and morbid humor, Doughty encounters vividly decomposed bodies and participates in compelling, powerful death practices almost entirely unknown in America. Featuring Gorey-esque illustrations by artist Landis Blair, From Here to Eternity introduces death-care innovators researching green burial and body composting, explores new spaces for mourning— including a glowing- Buddha columbarium in Japan and America's only open-air pyre— and reveals unexpected new possibilities for our own death rituals.
That is all for now! Hope you found something interesting among these books. As always when I read these I will put up reviews!!